Posts for: November, 2018
By Coshocton Dental Care
November 20, 2018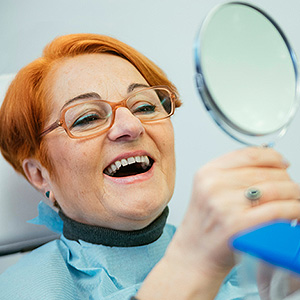 Edentulism, the loss of all of a person's teeth, is more than an appearance problem. As one in four Americans over 65 can attest, total tooth loss can lead to emotional suffering, social embarrassment and a lack of nutrition caused by limited food choices.
But there are solutions like the removable denture, an effective dental restoration for more than a century. In its current advanced form, the removable denture is truly a functional, affordable and attractive way to restore lost teeth.
Creating an effective denture begins first by taking detailed impressions of a patient's gum ridges. We use the measurements obtained from this process to create a plastic resin base colored to resemble the natural gums.  Using old photos and other resources documenting how the patient looked with teeth, we choose the best size and shape of porcelain teeth and then position them onto the base.
Finally, we fine-tune the dentures the first time they're in the patient's mouth to make sure they have a secure fit and a balanced bite when the jaws come together. We also want to be sure the dentures are attractive and blend well with other facial features. The result:  a new set of teeth that can do the job of the old ones and look nearly as real and attractive.
Dentures, though, do have one major drawback: they can't stop bone loss, a common consequence of missing teeth. In fact, they may even accelerate bone loss due to the pressure they bring to bear on the gum ridges. Continuing bone loss could eventually cause their once secure fit to slacken, making them less functional and much more uncomfortable to wear.
But a recent innovation could put the brakes on bone loss for a denture wearer. By incorporating small implants imbedded at various places along the gums, a denture with compatible fittings connects securely with the implants to support the denture rather than the gum ridges. This not only relieves pressure on the gums, but the titanium within the implants attracts bone cells and stimulates their growth.
Thanks to this and other modern advances, dentures continue to be a solid choice for tooth replacement. Not only can they restore a lost smile, they can improve overall health and well-being too.
If you would like more information on dental restorations for missing teeth, please contact us or schedule an appointment for a consultation. You can also learn more about this topic by reading the Dear Doctor magazine article "Removable Full Dentures."
By Coshocton Dental Care
November 10, 2018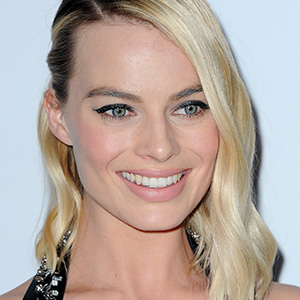 On the big screen, Australian-born actress Margot Robbie may be best known for playing devil-may-care anti-heroes—like Suicide Squad member Harley Quinn and notorious figure skater Tonya Harding. But recently, a discussion of her role in Peter Rabbit proved that in real life, she's making healthier choices. When asked whether it was hard to voice a character with a speech impediment, she revealed that she wears retainers in her mouth at night, which gives her a noticeable lisp.
"I actually have two retainers," she explained, "one for my bottom teeth which is for grinding my teeth, and one for my top teeth which is just so my teeth don't move."
Clearly Robbie is serious about protecting her dazzling smile. And she has good reasons for wearing both of those retainers. So first, let's talk about retainers for teeth grinding.
Also called bruxism, teeth grinding affects around 10 percent of adults at one time or another, and is often associated with stress. If you wake up with headaches, sore teeth or irritated gums, or your sleeping partner complains of grinding noises at night, you may be suffering from nighttime teeth grinding without even being aware of it.
A type of retainer called an occlusal guard is frequently recommended to alleviate the symptoms of bruxism. Typically made of plastic, this appliance fits comfortably over your teeth and prevents them from being damaged when they rub against each other. In combination with stress reduction techniques and other conservative treatments, it's often the best way to manage teeth grinding.
Orthodontic retainers are also well-established treatment devices. While appliances like braces or aligners cause teeth to move into better positions, retainers are designed to keep teeth from moving—helping them to stay in those positions. After active orthodontic treatment, a period of retention is needed to allow the bite to stabilize. Otherwise, the teeth can drift right back to their old locations, undoing the time and effort of orthodontic treatment.
So Robbie has the right idea there too. However, for those who don't relish the idea of wearing a plastic appliance, it's often possible to bond a wire retainer to the back surfaces of the teeth, where it's invisible. No matter which kind you choose, wearing a retainer can help keep your smile looking great for many years to come.
If you have questions about teeth grinding or orthodontic retainers, please contact our office or schedule a consultation. You can read more in the Dear Doctor magazine articles "Teeth Grinding" and "The Importance of Orthodontic Retainers."