Posts for: November, 2016
By Dr. Marc Lewis & Dr. Thomas Niederhelman and Associates
November 25, 2016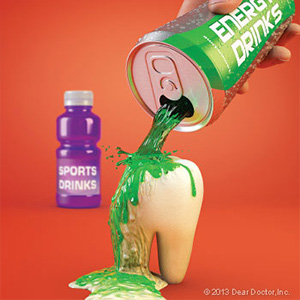 Sports and energy drinks — two different types of popular beverages. But though different they have one thing in common: they can both wreak havoc on your tooth enamel.
That's because each contains high concentrations of acid. And acid is tooth enamel's mortal enemy — prolonged exposure with it causes the minerals in enamel to soften and erode, a process called de-mineralization.
Demineralization becomes even more pronounced when the mouth's pH levels fall below 4.0 into the acidic range. A sampling of various brands of sports and energy drinks reveal mean pH levels below even that threshold. Energy drinks are especially harmful to enamel because the type of acid they contain is more concentrated.
So, what can you do to minimize this threat to your dental health? The optimal thing to do is avoid such beverages altogether, especially energy drinks. If you currently re-hydrate after hard work or exercise with sports drinks, consider switching to water, nature's hydrator.
If you do, however, continue to drink these beverages, then follow a few precautions to lessen the acidic levels in your mouth:
Wait until mealtimes. Saliva is your body's way of neutralizing acid in your mouth, but it takes about 30 to 60 minutes for it to fully buffer acid. If you're sipping between meals on acidic beverages, saliva can't keep up. So, wait until you eat or limit your sipping time on a drink.
Rinse with water. Since water's pH is neutral, swishing some in your mouth right after drinking a sports or energy drink will help reduce acidity.
Wait an hour to brush. Your enamel will begin demineralizing as soon as it encounters acid. If you brush right away you could be sloughing off miniscule amounts of softened minerals. By waiting an hour you give your saliva time to buffer and help re-mineralize the enamel.
Although popular, especially among teenagers and young adults, overindulgence in sports and energy drinks could damage your teeth and increase your risk for tooth decay. With a little moderation and common sense, you can keep your enamel strong and healthy.
If you would like more information on the effects of sports and energy drinks on dental health, please contact us or schedule an appointment for a consultation. You can also learn more about this topic by reading the Dear Doctor magazine article "Think Before you Drink."
By Dr. Marc Lewis & Dr. Thomas Niederhelman and Associates
November 10, 2016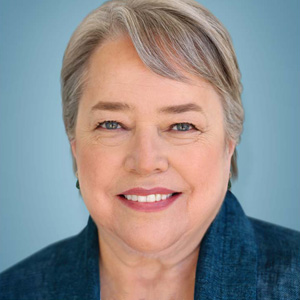 In her decades-long career, renowned actress Kathy Bates has won Golden Globes, Emmys, and many other honors. Bates began acting in her twenties, but didn't achieve national recognition until she won the best actress Oscar for Misery — when she was 42 years old! "I was told early on that because of my physique and my look, I'd probably blossom more in my middle age," she recently told Dear Doctor magazine. "[That] has certainly been true." So if there's one lesson we can take from her success, it might be that persistence pays off.
When it comes to her smile, Kathy also recognizes the value of persistence. Now 67, the veteran actress had orthodontic treatment in her 50's to straighten her teeth. Yet she is still conscientious about wearing her retainer. "I wear a retainer every night," she said. "I got lazy about it once, and then it was very difficult to put the retainer back in. So I was aware that the teeth really do move."
Indeed they do. In fact, the ability to move teeth is what makes orthodontic treatment work. By applying consistent and gentle forces, the teeth can be shifted into better positions in the smile. That's called the active stage of orthodontic treatment. Once that stage is over, another begins: the retention stage. The purpose of retention is to keep that straightened smile looking as good as it did when the braces came off. And that's where the retainer comes in.
There are several different kinds of retainers, but all have the same purpose: To hold the teeth in their new positions and keep them from shifting back to where they were. We sometimes say teeth have a "memory" — not literally, but in the sense that if left alone, teeth tend to migrate back to their former locations. And if you've worn orthodontic appliances, like braces or aligners, that means right back where you started before treatment.
By holding the teeth in place, retainers help stabilize them in their new positions. They allow new bone and ligaments to re-form and mature around them, and give the gums time to remodel themselves. This process can take months to years to be complete. But you may not need to wear a retainer all the time: Often, removable retainers are worn 24 hours a day at first; later they are worn only at night. We will let you know what's best in your individual situation.
So take a tip from Kathy Bates, star of the hit TV series American Horror Story, and wear your retainer as instructed. That's the best way to keep your straight new smile from changing back to the way it was — and to keep a bad dream from coming true.
If you would like more information about orthodontic retainers, please contact us or schedule an appointment for a consultation. You can learn more about this topic in the Dear Doctor magazine articles "Why Orthodontic Retainers?" and "The Importance of Orthodontic Retainers." The interview with Kathy Bates appears in the latest issue of Dear Doctor.